6 Persuasive Reasons Why You Should Store Wine in a Cave
August 10, 2021
You could say an underground wine cave is Earth's answer to the wine fridge. Varying in size and use, these spaces are intriguing and, more importantly, practical for wine aging and storage. Wine caves are not new. For hundreds of years, people have used these spaces to store wine for reasons that are just as relevant today. This post covers six persuasive and practical reasons why wineries should seriously consider storing wine in a cave.
1. Wine caves provide the ideal light, humidity, temperature conditions for storage. Fluctuating weather patterns are making the stability of subterranean spaces a more attractive proposition for wine aging as opposed to their above ground counterparts. Strong light can adversely affect the phenolic compounds in wine and jeopardize the final product. A dimly lit wine cave protects your assets from these unfavorable effects. A wine cave's consistent temperature range provides the best year-round conditions for aging and storing wine, and ideal for storing barrels without drying them out. A cave's natural humidity reduces evaporation. Reds require a humidity over 75% and whites over 85% for ideal aging and barrel storage. Inherently, wine cave humidity will range anywhere from 70 to 90%. Additionally, there are studies that show the effects of vibration in above ground wine storage result in accelerated aging along with adverse effects on the chemistry and overall quality. Caves environments provide a relatively still place for aging.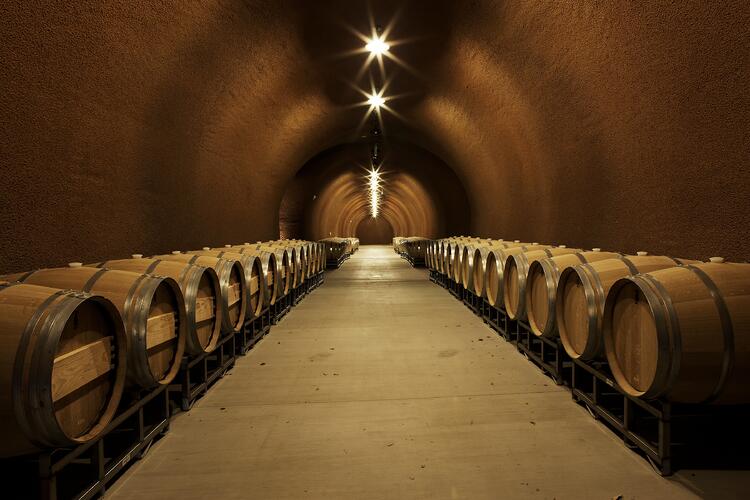 Kenzo Estate Winery, Napa
2. Wine caves maximize a winery site's capacity. Winery facilities include tasting facilities, offices, laboratories, production areas, and warehouses. Why not tuck them underground? Subterranean cave systems can free up a lot of land space and opens up surface area to grow more grapes or other uses which largely depend on your state's regulations. Cave systems serve a range of purposes including wine aging, barrel storage, and guest accommodations.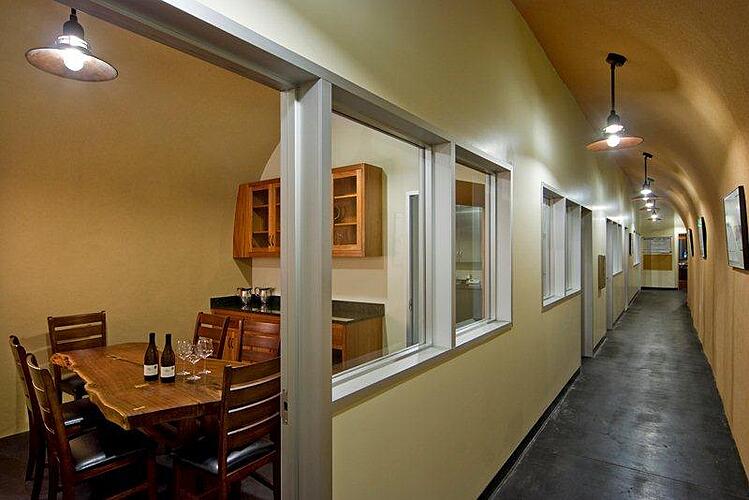 Rhys Vineyards, Santa Cruz
3. Wine caves provide a safe haven from wildfire, earthquakes, and other unforeseen hazards.  During the firestorm of 2017, wineries continued the production process underground while fires raged above giving new meaning the phrase "the show must go on." In California, earthquakes occur without notice and often lead to structural damage to above ground structures. Wine barrel racking systems have been known to tumble down and often result in the loss of wine assets.  Wine barrel racks located in a cave structures tend to withstand this type of calamity. A cave provides a more secure storage environment for your wine assets.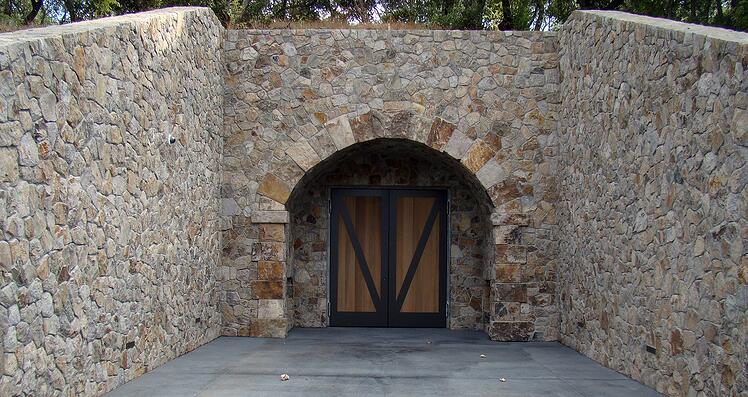 Kenzo Estate Winery, Napa
4. Wine cave spaces use less energy than their above ground counterparts. For the most part, wine caves are reliable and consistent in terms of temperature and humidity.*   As a result, these spaces do not require substantial heating, cooling, and humidifying and, therefore, provide a more efficient area for storing your assets. In effect, a wine cave's natural insulation translates into reduced operational costs.
(Note: The earth's and corresponding cave tempature may vary seasonally)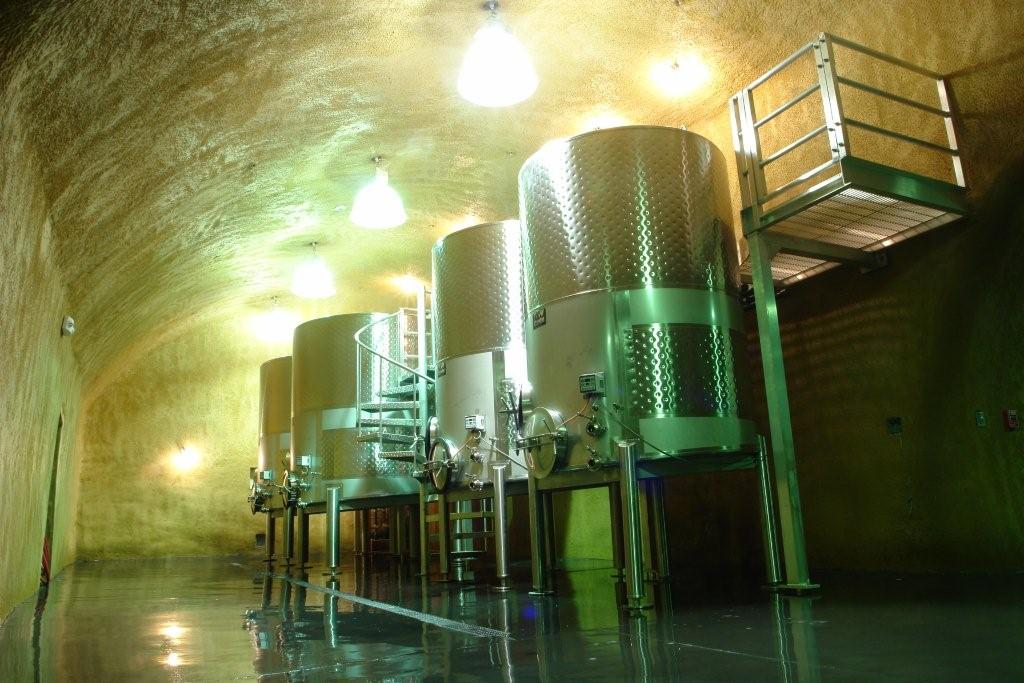 Porter Family Vineyards, Napa
5. Wine caves are debatably more environmentally friendly than above ground structures. Along with reduced operational costs to power your storage facility, underground wine cave systems decrease your winery's carbon footprint. Wine caves are not as susceptible to the seasonal temperature variation, resulting in a lesser draw upon energy and associated water resources. One of the tenets of being green is reuse. Wine caves appreciate the benefits of the earth's natural temperature (cooling) and do not have to deal with stormwater runoff. Winery neighbors and environmentalists tend to object when above ground structures dominate the landscape. Wine caves are out of site. With the popularity of green roofs, shouldn't wine owners promote their open space as its most beautiful feature?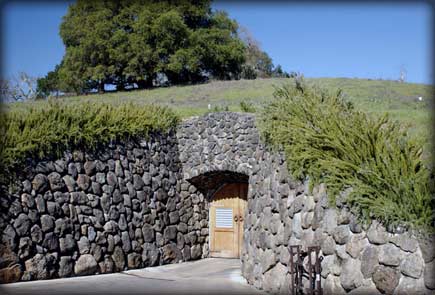 Alexander Valley Vineyard, Healdsburg 
6. Wine caves transform an ordinary winery into a destination. We all know there are thousands of competing brands in wine industry. The number of wineries is the result of consumers insatiable desire to experience the romance that surrounds winemaking. It's not uncommon for visitors to plan whole vacations around wine tastings and tours. Given these well-known facts, a wine cave is just one more way to differentiate your winery from the rest. From scenic views of vineyards to consuming the delicious fermented beverage, there is a lot to love about these dark enclaves. Wine caves provide dimly-lit romantic spaces for visitors to witness wine production, experience wine tastings and food pairings, and participate in wine auctions and special events. It is not unusual to find commercial caves that include exhibit or concert halls, wine libraries, private kitchens, and restrooms with high-end finishes like stone flooring, sculptures and artwork, mood lighting, chandeliers, fountains and waterfalls. Caves offer unique propositions for the wine connoisseur.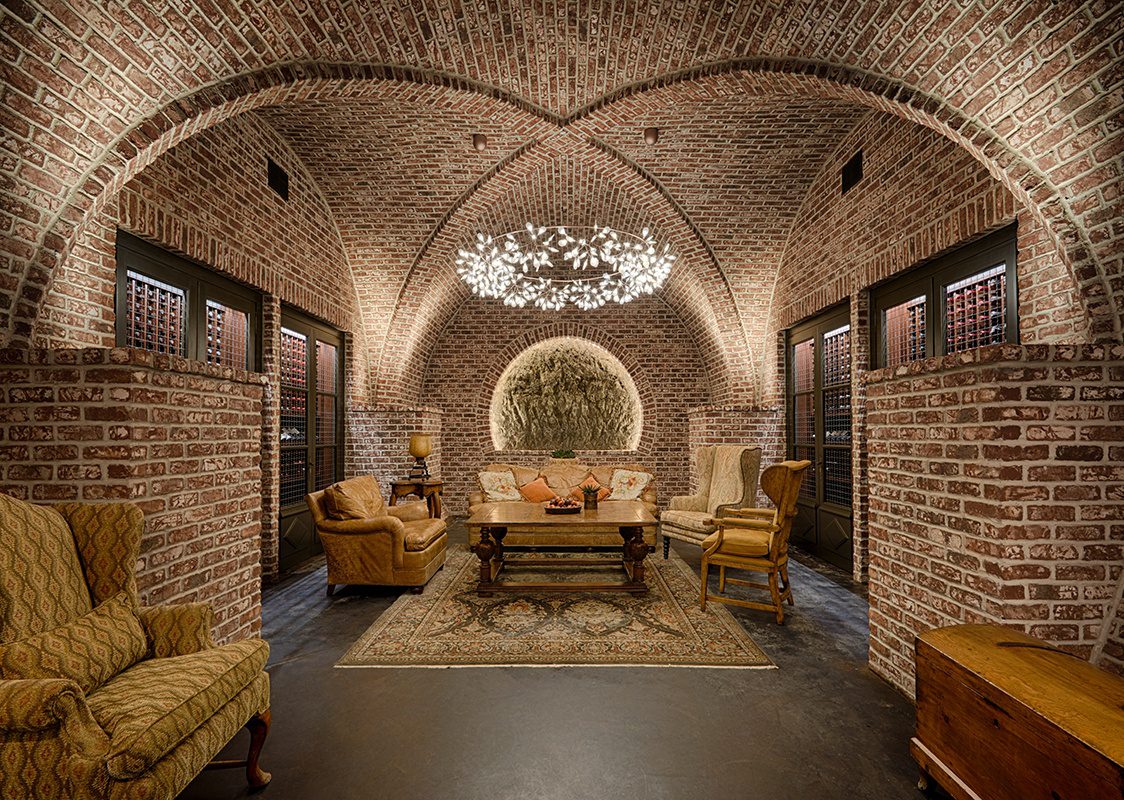 Roth Estate, Healdsburg 
You could say wine caves have withstood the test of time for aging and storage. Generations of winemakers have used these spaces to effectively secure their assets. It comes as no surprise to us that they continue to be a timeless, practical, and fun solution for many wineries.